TECHNIQUES WITH SINAMAY
July 6, 2019

-

July 13, 2019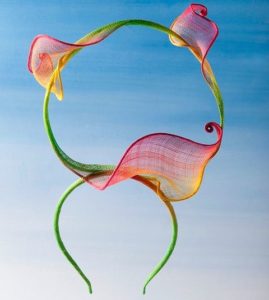 Milliner and artist Bridget Bailey's work combines art with exquisite and original making. She brings a brings a wealth of experience and innovative techniques to this workshop which covers techniques for working with sinamay.  She's known for her immaculate rolling techniques, the perfect points that don't fray and beautiful smooth curves.
You'll practice and perfect your techniques during the workshop by making a series of nature-inspired forms including flower petals and leaves.  You'll learn to cover a couture headband with sinamay and show you clever ways to attach and fix your flowers and petals.
One of Bridget's specialities is dyeing and ombré techniques and during the week she'll show you how to colour grade sinamay with precision and confidence – an essential skill if matching, toning or contrasting is part of your creative work.
By the end of the week you'll have completed two stunning headpieces and developed a completely new understanding of the possibilities for working with this versatile material.
This workshop is suitable for all levels from total beginner to advanced with no prior experience of blocking required.
The week coincides with the international Hat Festival, Estivales du Chapeau, which attracts milliners from all over the world.  We'll pay a visit to the Festival as well as a local farmer's market in the medieval village of St Antonin-Noble-Val.