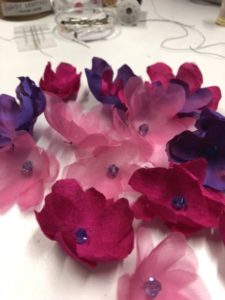 Learn from Judy Bentinck at one of her popular couture millinery classes. A practising professional milliner with  over 18 years experience, Judy loves to pass on her expertise and passion for creative millinery. She is also a wonderful teacher: funny and warm, responsive and patient, her love for the craft is infectious.
Judy is the author of "Designing and making hats and headpieces", an inspiring step-by-step guide to the art of millinery.
With a background in textile and costume design, Judy trained in the craft of millinery with Rose Cory, Royal Warrant holder. With Rose she learned the secrets of traditional couture millinery, gaining an appreciation for true craftsmanship, well-balanced design and exquisite detailing.
Clients include TV personality Clare Balding, actor Amanda Redman and singer/performer Alexandra Burke. They all looked stunning in a Judy Bentinck hat at Royal Ascot.
Whether this is your first time or you already have some millinery skills, join Judy in central London to create you own hat design at one of her enjoyable hands-on classes.
Cockpit Arts Holborn, Cockpit Yard, Northington Street, London WC1N 2NP