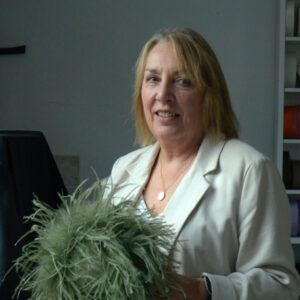 Judy Bentinck has been teaching millinery skills at Central St Martin's UAL short courses since 2007 and also runs a variety of courses from her Central London Studio.
A founder member and Director of The British Hat Guild, Judy is a leading British milliner with 21 years of experience.
Judy is passionate about her craft and loves to pass this passion and her expertise on. She believes that in-person classes are the best way to learn millinery the couture way.
These courses are always small in number, ensuring plenty of personal attention. You will learn traditional millinery techniques surrounded by the tutor's own inspiring work.
Judy Bentinck has judged the International HATalk competition for 2 years running and has also demonstrated at the Victoria and Albert Museum, The British Museum and The Museum of London. Many of Judy's students have gone on to work in the industry or become successful milliners.
Her book "Designing and Making Hats and Headpieces", published in 2014, is an excellent accompaniment to her courses and can be purchased on Amazon or from Judy directly.
Studio E2L, Cockpit Arts Holborn, Cockpit Yard, Northington Street, London WC1N 2NP
+44(0)7966 272469