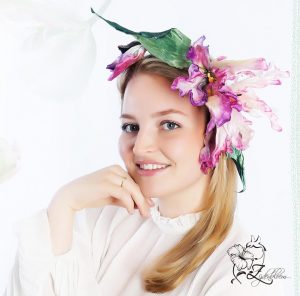 Zijdenbloem is a small young creative bureau dealing with production of silk flowers, hats and fasionatos. We also visit exhibitions and take part in different competitions.
From time to time (2-3 times a quarter) we hold flower making workshops in Holland, in the city of Naarden, it is 20 minutes away from Amsterdam. Usually there is another new flower at every workshop. We use different materials, from silk to sinamey, abaca silk. You can get more information at our website www.zijdenbloem.nl. Please visit the page Workshops agenda.
http://www.zijdenbloem.nl/workshops-agenda/
Usually we have one-day workshops from 11 a.m. till 6 p.m. All materials, tea and coffee as well as some snack are included.
During the course you will be able to learn a special flower leaves coloring technique and also learn how you can put the flower together. You will get theoretical basics on how to dress the fabric to make it limber and keep the form firmly.
In fact the course is full of information and techniques.
If there is some interest, I can conduct an individual course and show you how to make any flower you choose. But the price will differ.
After the workshop, it is not only your knowledge and technique you take home, but your self-made flower, diadem or a brooch too (photos always go together with the course).
You can also contact us by the e-mail and get answers on all your questions.
You can use e-mail lana@zijdenbloem.nl  as well to register for the course. As a rule you will have to pre-pay 50% (or 100% if you wish) of the course price. It is 114.95 Euros.
You should register in advance, because our groups are small and we can take maximum 5 participants. We conduct workshops in small groups to be able to guarantee for enough attention and individual approach.
What you will need to have is an apron and scissors. All the rest is included in the course.
I'm looking forward to seeing you!
Lana Semenova
Address: Zijdenbloem, Thesaurier 15, 1412NT Naarden, Netherlands
T: 0642537770