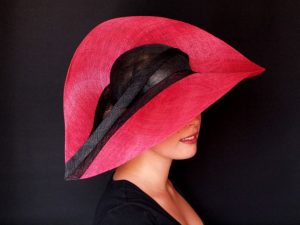 Myra's designs are classic and stylish with elegant lines.
She is specialized in sinamay techniques which creates a free form brim without wire.
The millinery workshops are in her studio in the old centre of Barendrecht.
You will be working in small groups with a lot of guidance and pleasure.
Here you can learn about different millinery techniques, the use of materials and the history of hats.
In 4 lessons you will make one or two hats but it is also possible to make a fascinator in one lesson.
English explanation is available. And Myra has a lot of experience with teaching fashion students.
Please contact me by email if you have any questions.
Designhoeden Myra
Dorpsstraat 189A,
2992 AA Barendrecht
Netherlands