Making Spring Flowers with Anne Tomlin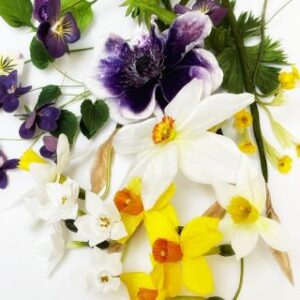 Tutor: Anne Tomlin
Make beautiful silk spring flowers, including narcissi, anemones and snowdrops. Learn lots of flower making techniques, experimenting with traditional heated tools to manipulate silks and velvets to shape the petals.
The aim of this course is to learn about millinery of silk flowers from observation of flowers and to interpret them using silk, velvet, paper clay and wire. You will learn many techniques of millinery silk flower-making, using a mixture of traditional French and Japanese Somebana heated tools. You will gain skills, which you can use after the course has ended, to explore the craft and develop your own personal way of re-creating many other flowers.
The course is suitable for all levels, and all that is required is a basic knowledge of sewing.
Throughout the course, you will be shown how to construct flowers with several techniques; each stage will be demonstrated with samples. You will be encouraged to experiment with dyes and make templates. Advice on painting techniques with procion dyes will be at hand to help you create the effects you want.
At the end of the course, you will have a basic understanding of the shapes that the various tools make, confidence in drawing from life, and you will take away a collection of experiments, techniques and flowers, some made into delicate brooches.